Does the Word of God have authority over you?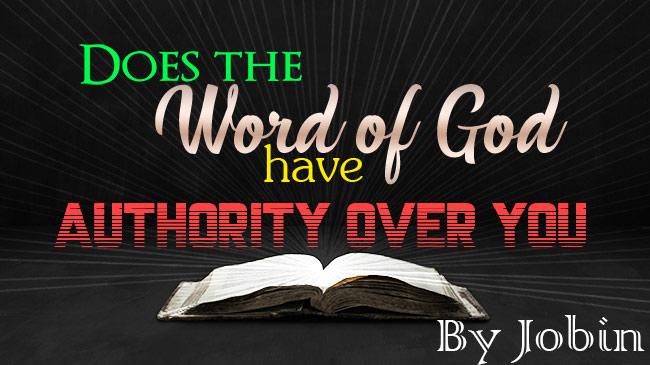 Posted here is the sermon delivered at Borivali Assembly on 30th April 2017.
Passage of Reference: Mark 12:28…..
We read in Mark 12:28 onwards about the teacher of the law who questioned the Lord about the greatest commandment and we see the wonderful way the Lord replies to him.The three major aspects of Christain living is mentioned in the Lord's answer. When we say we believe in One God do we really give Him that place in our life??When we have faith in His Word do we give the Word of God authority over our life?? If there is anything that hinders our love for the Lord let us place it at the Feet of Lord and be living examples for the Lord.
Audio Sermon

Please Contact us, if facing any problems on downloading or streaming a sermon.


Latest Sermons
Bro Thomson B Thomas - THE CHURCH (Sermon Series)

Br. Nelson Thomsas - Prayer of Paul (Sermon Series)

Bro John Kurian - The Christian Race

Bro Maxlin Thomas - RED HEIFER & WATERS OF PURIFICATION

Bro George Dawson - REMEMBERING GOD'S FAITHFULNESS

Bro PK Jerome - JOSEPH A GENTLEMEN

Bro Koshy Mathew - WAITING FOR THE RAPTURE AND NOT WRATH

Br. Deepak Jariwala - COMPLETE SUBMISSION

Br. Koshy Matthew - ROLE OF WIFE

Br. Koshy Matthew - ROLE OF HUSBAND

Br. Koshy Matthew - IMPORTANCE OF MARRIAGE

Br. Koshy Matthew - UNCHANGING GOD

Br. Koshy Matthew - TEARS OF LORD JESUS CHRIST

And others……..
Podcast: Play in new window | Download (Duration: 33:38 — 11.5MB)
Subscribe: iTunes | Android | RSS
Bro Jobin John Mathew – DOES THE WORD OF GOD HAVE AUTHORITY OVER YOU? [Sermon]