THE CHURCH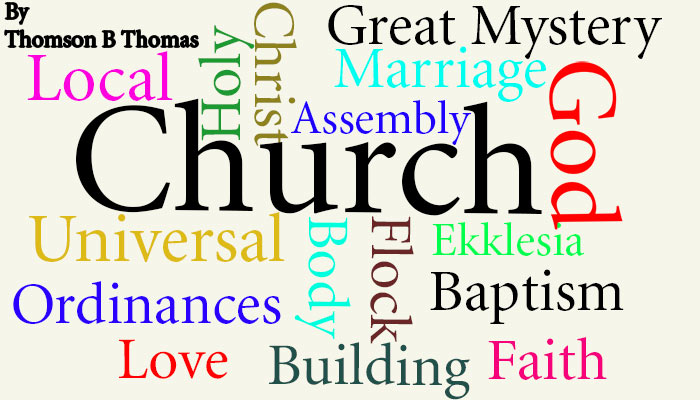 Posted here is the sermon delivered by Br. Thomson B Thomas at Assembly Bible Classes between 23rd April to 29th April.
Passage of Reference: Mathew 16:18
'The Lord Jesus loved the church and gave Himself for it. Anybody who loves the Lord can only love it and labour for its progress. They shall have delight in its principles and practice. Now the doctrines related to church are corrupted or neglected. It is high time to get to the Bible and see the will of God concerning it. In the eight Bible studies uploaded here by brother Thomson B Thomas, Mumbai, gives the elementary and essential teachings of the church. The name the Lord gave to it, it's various metaphors and the two aspects of it are presented in simple terms. The ordinances, offices and its autonomy are taught clearly. The series takes the student till the blessed hope of the church. Anyone, beginner or scholar, may find help in listening to these.'
In this sermon Bro. Thomson mentions about the seven offices of the Church that help in the administration of the Church. Those are:
Apostles
Prophets
Evangelists
Pastor Teachers
Bishop (Overseer, Shepherds)
Deacons
Deaconesses
He also explains how our attitude should be towards this office. He gives seven points for this also:
1Thes 5:12 – Respect
1Thes 5:17 – Double Honour
1Thes 5:13 – Esteem Them
1Tim 5:17 – Trust
Heb 13:7 – Remember
Heb 13:17 – Submit & Obey
Heb 13:24 – Salute
Audio Sermon

Please Contact us, if facing any problems on downloading or streaming a sermon.


Latest Sermons
Bro Godly Abraham - Colossians (Sermon Series)

Bro Joshua Rajan - PICTURES OF RESURRECTION

Bro Nitish Patel - FALL OF ABSALOM - 2 Samuel 16-18

Bro Nitish Patel - REVOLT OF ABSALOM - 2 Samuel 15

Bro. Koshy Mathew - SEARCH ME OH GOD AND KNOW MY HEART

Bro. Deepak Jariwala - Tabernacle- An overview study

Bro. Deepak Jariwala - A STUDY ON ANGELS, DEMONS & SATAN

Bro. Deepak Jariwala - 5 SECRET KEYS OF DANIEL'S LIFE - Part 2

Bro. Jobin John Mathew - Bibliology : Interpretation of the Bible

Bro. Jobin John Mathew - Bibliology : Inerrancy of the Bible

UNUSUAL ANSWERS TO OUR PRAYERS

Bro. Jobin John Mathew - Bibliology : Inspiration of the Bible

Bro Jobin John Mathew - ARE YOU PART OF THE CROWD OR A DISCIPLE OF LORD JESUS CHRIST?

And others……..
Podcast: Play in new window | Download (Duration: 25:53 — 8.9MB)
Bro Thomson B Thomas – THE CHURCH – Administration of the Church [Sermon]