Unusual Answers to our Prayers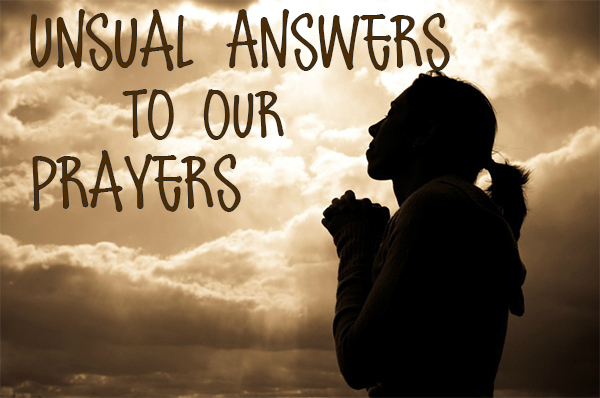 Posted here is the sermon delivered at Borivali Assembly on 13th August 2017.
Passage of Reference:
Psalm 46:10– He says, "Be still, and know that I am God;
Genesis 16: 9– The angel of the Lord told her, "You must go back to your mistress and submit to her authority.
Genesis 16: 13 So she called the name of the Lord who spoke to her, "You are 'God who sees,' because I have truly seen the one who looks after me."
Psalm 32: 8– I will instruct you and teach you in the way which you should go: I will guide thee with mine eye.
We often pray with a rightful conviction that our God with infinite resources and omnipotence can answer all our prayers instantly and immediately. This feeling is further cemented by our lifestyle in a fast-pace world, where we are spoiled with instant gratification and instant responses. In turn we desire quick answers, quick fixes and expect that God too will rush through our prayers.
But in the Bible, God often demanded his saints to wait on Him; testing and trying their patience. Moreover, He sometimes desires to change us rather than the situation we want to be changed. Sometimes He answers our prayers discreetly, demanding our closeness and nearness to Him. These unusual answers to our prayers is yet another display of God's love and parenting of His children
Audio Sermon

Please Contact us, if facing any problems on downloading or streaming a sermon.


Latest Sermons
Bro Godly Abraham - Colossians (Sermon Series)

Bro Joshua Rajan - PICTURES OF RESURRECTION

Bro Nitish Patel - FALL OF ABSALOM - 2 Samuel 16-18

Bro Nitish Patel - REVOLT OF ABSALOM - 2 Samuel 15

Bro. Koshy Mathew - SEARCH ME OH GOD AND KNOW MY HEART

Bro. Deepak Jariwala - Tabernacle- An overview study

Bro. Deepak Jariwala - A STUDY ON ANGELS, DEMONS & SATAN

Bro. Deepak Jariwala - 5 SECRET KEYS OF DANIEL'S LIFE - Part 2

Bro. Jobin John Mathew - Bibliology : Interpretation of the Bible

Bro. Jobin John Mathew - Bibliology : Inerrancy of the Bible

UNUSUAL ANSWERS TO OUR PRAYERS

Bro. Jobin John Mathew - Bibliology : Inspiration of the Bible

Bro Jobin John Mathew - ARE YOU PART OF THE CROWD OR A DISCIPLE OF LORD JESUS CHRIST?

And others……..
Podcast: Play in new window | Download (Duration: 27:35 — 9.5MB)
UNUSUAL ANSWERS TO OUR PRAYERS